혜정산업(주)
PRODUCTS
FOAMCRETE
Lightweight Concrete Agent
Features

FormCrete is a lightweight concrete agent that provides a dense foam concrete to fill the empty space of a structure and supplies an insulation effect in residences. It helps produce a durable cement slurry to make dense foam concrete. This product has improved fluidity to ensure that cement and lightweight concrete agent can be mixed well even in winter. FoamCrete is composed of highly biodegradable surfactants as its main ingredient, to prevent odors. The use of FormCrete is economical, since the amount of cement used can be reduced by nearly 30% to 70%.
| Characteristics | Details |
| --- | --- |
| Appearance | Clear liquid |
| Recommended Storage Temperature | 0℃ to 40℃ |
Excellent stability and high efficiency
Provides durable and dense foam and prevents cracks on cement
The strength of lightweight concrete can be adjusted by the proportioning rate
Outstanding insulation effect
Flexible material distributes external impact through a cushioning effect
Can be used with natural and artificial aggregates such as bentonite or fly ash
Directions for Use
1.How to Mix
① Fill the container with a quantitative amount of water, put a quantitative amount of Foamcrete, and mix for about 30 to 60 seconds with a grout mixer to produce foam.
② Put the admixture and cement in the proper order.
③ Stir for 2 to 3 minutes to inject. at this time, add the air mortar while stirring the mixer.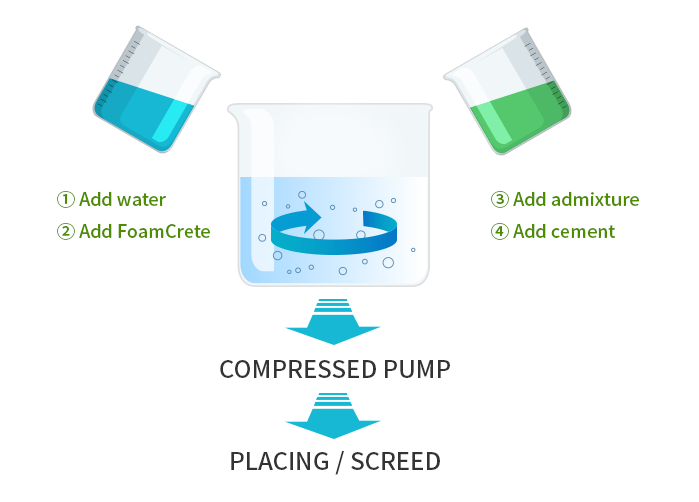 1-1.Mix Ratios for 1.0㎥
Cement(kg)
Water(L)
Foam(kg)
Air Volume(%)
Wet Density
Compressive Strength
(kg/

㎠

)
317
198
2.53
70
0.53
10
425
255
2.2
60
0.68
20
560
315
1.98
50
0.88
40
* Conversion Table.
Cement(kg)
Water(L)
Foam(kg)
Air Volume(%)
Wet Density
Compressive Strength
(kg/

㎠

)
1
0.625
0.008
70
0.53
10
1
0.6
0.0052
60
0.68
20
1
0.56
0.0035
50
0.88
40
2.Mixture Test
After the lightweight concrete mixing is completed, test the air volume, flow value, strength, etc., and then adjust the water amount, cement ratio and foam concrete dosage according to the result
3.Test Method of the Lightweight Concrete Agent
① Flow value (㎜) – Place the mixed lightweight cement sample in a container with a diameter of 8 cm and a height of 8 cm. Remove the container to measure the average value of the long and short diameters.

② Measure the air volume.
③ Measure the be wet density.
④ Measure the compressive strength. Measure the strength of the cured lightweight concrete for 28 days in a cubic type 4 ㎝ x 4 ㎝ x 16 ㎝ or cylinder type (∅10 x 20 ㎝).
Applications
Roof insulation screeds and insulated floor screeds
Backfill in empty spaces behind embankments and tunnels
Filling empty spaces in cases such as waste pipes (water pipes), ground subsidence, falling rocks, etc
Filling the rear surface of a tube or inside of a tube while performing the jacking method
Sound insulation in apartments
Package