혜정산업(주)
PRODUCTS
Greenfoam - 300 / Greenfoam - 600
GREENFOAM - 300 / GREENFOAM - 600
Aqueous Film Forming Foam 3%, 6%
Features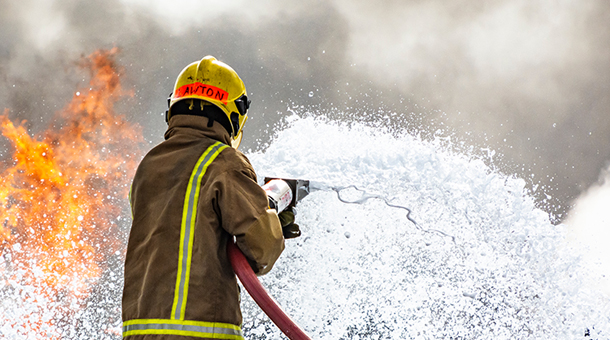 GREENFOAM - 300 and GREENFOAM – 600 are an aqueous film forming foam ( AFFF ) which have the ability to produce aqueous film on the surface of hydrocarbon liquid fuels. This is effective for rapid vapor suppression and fast fire extinction. GREENFOAM-300 and GREENFOAM-600 are specially formulated to fluoro-chemical surfactants and special chemicals to produce a high quality foam under strict quality control. It is available in 3%, 6% induction grades.
ID
Proportioning Rate
Minimum using temperature
Fuel type
GREENFOAM-300
3%
Ultra cold resistant type
-20℃
Hydrocarbon liquid fuels fire,
Oil storage facility fire,
General oil fire, Spilled oil fire, and Class A fire
Cold resistant type
-10℃
GREENFOAM-600
6%
-10℃
| Environmental indicators | Data |
| --- | --- |
| PFOS, PFOA | No Contained |
Do not include environmental hormanes, PFOS / PFOA.
Excellent wetting characteristics to extinguish Class A Fires.
Effective for the prevention of rekindling through air exclusion by foam and film forming after extinguishing.
Suitable for airports, diesel generator rooms and hydrocarbon bulk storage, etc.
Precautions
Keep the container or tank for storage sealed so as not to be contaminated by other substance, expecially water.
Keep the contains out of the sun and pay attention to severe temperatures.
The foam should not be mixed with old foam concentrate.
Package
Approval and Listing
Type Approval (Korea Fire Institute)
* AFFF : Aqueous Film Forming Foam